Divine Indulgence Day Spa
Experience excellence in service when you visit us!


We offer a wide variety of top quality services to fit your needs. Our experienced staff will help you determine the best services for your needs and deliver the kind of quality and value you expect from a professional day spa . Our location is designed to make your experience enjoyable and leave you feeling inspired! Check out our complete service menu below to get a feel for what we do. Please note: Service prices and availability are subject to change without notice.


Specialty Skin Care Treatments
Anti Aging - Age Smart Treatment
Are the signs of aging becoming more prevalent on your skin? Give it a revitalizing power boost with this treatment designed to nourish, regenerate and energize skin! Potent vitamins and hydroxy acid exfoliation resurfaces and retexturize skin while energizing massage techniques release tension in the facial muscles for the ultimate in skin therapy for prematurely-aging, mature or devitalized skin. To top off this phenominal experience, A Hyaluronic Delivery (HD) masque is applied to entire face under LED treatment lights. Firmer, smoother, revived skin you'll love, is yours with this amazing treatment.


Divine Microcurrent Treatment
$90
Microcurrent is used for the re-education of muscle, which is called "Facial Toning." The benefits are as follows:
Improve muscle tone in the face and neck

Lift jowls and eyebrows

Improve facial circulation

Aid in lymphatic drainage

Enhance product penetration to treat multiple skin conditions.
This treatment is more effective when done as a series of 6 or more.
Buy 5 Treatments and your 6th one is FREE.
Divine Ultrasonic Skin Treatment
$90
This treatment is a deep pore cleansing facial, that loosens impaction, and aid in effective and less discomforting extractions. This treatment has shown great results in penetrating concentrated ingredient products, that are beneficial to your particular skin condition.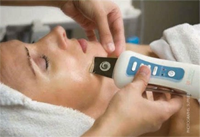 $300
The Vi Peel contains a synergistic blend of powerful ingredients suitable for all skin types, for dramatic results with virtually no pain, no skin preparation and little downtime.

The Vi Peel will:
Improve the tone, texture and clarity of your skin

Reduce or eliminate age spots, freckles, and hyper-pigmentation, including melasma

Soften lines and wrinkles

Clear acne skin conditions, reduce or eliminate acne scars

Stimulate the production of collagen, for firmer, more youthful skin
Why wait weeks or months for results when you can enjoy beautiful, radiant skin in about a week?
Dermalogica BioActive Peel
$150
Divine Indulgence Day Spa introduces the new BioActive Peel by Dermalogica. This BioActive Peel is a high-intensity, professional chemical peel designed to dramatically resurface the skin with minimal recovery time. Our unique, multi-phase approach works with the skin's biology to safely slough away dull epidermal layers and accelerate cell renewal without inflammation and prolonged downtime typically associated with chemical peels. As your therapist, I can design a series of treatments to address your specific needs, whether you're looking to address photoaging, fine lines and wrinkles, uneven skin tone or acne breakouts. For maximum benefit, a series of 3 or more peels should be done.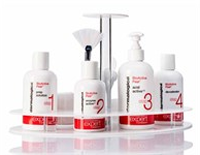 Our expert therapist will analyze your skin, then perform a zone-specific treatments designed to solve your skin problem in about 30 minutes. MicroZone treatments are just a quick fix for troubled skin, and they are ideal maintenance services between your scheduled treatments.

FLASH EXFOLIATION: Resurface, Smooth, Brighten.

EYE RESCUE: Brighten, Firm, Revitalize.

LIP RENEWAL: Smooth your smile.

BLACKHEAD RELIEF: Clear and Prevent Breakouts.

RAPID SPOT CLEARING: Speedy Breakout Recovery.

HAND REPAIR: Heal Rough Hands.

MEN'S SKIN FITNESS: Make Shave Problems History.


Microdermabrasion services employ gentle abrasion to exfoliate and remove the dead outer layers of skin clean your pores and give you smooth and beautiful skin.
Return to Top
Policy
Please call
(617)435-7678
to schedule an appointment. We'll be happy to accommodate walk-ins so please call first to check for availability.
Join The List
Be the first to know about special offers, promotions, and news!